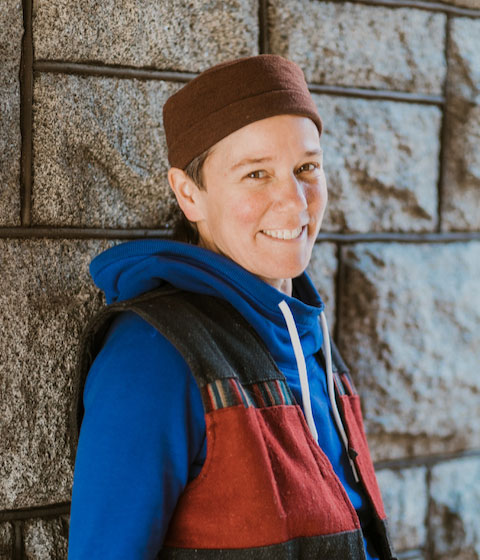 COUNSELLING & FACILITATION
---
Lore McLaren
I am passionate about healing
---
Trauma resolution is at the core of my work. I facilitate the cultivation and deepening of compassion, resourcing, self-valuing and embodiment through the skillful processing and healthy integration of trauma.
I have over 13 years of experience counselling adults and youth, supporting healing and transformation. As a registered counsellor, my practise is focused in working with trauma, stress, anxiety, shame, grief/loss, the shadow, the inner child, gender/2SLGBTQ+ identity, and spirituality.
I have formal training in Relational Somatic Therapy, Expressive Arts Therapy, Mindfulness Based Trauma Counselling and Conscious Connected Breathwork. I integrate the approaches of social justice, feminism, decolonization, gender-affirming practise and anti-oppression.
I am a registered Master Therapeutic Counsellor (#2524) with the Association of Cooperative Counselling Therapists of Canada (ACCT), in progress to acquire International Certification as a Breathwork Facilitator.
"The shadow is the greatest teacher for how to come to the light." - Ram Dass
The depths of human suffering and the soul-restoring gifts of healing are what I know well from personal experience. Having spent decades working through the impacts of deep trauma in my own life, I have found, and continue to find, tremendous healing through modalities, mentors and teachers in meditation, art, wilderness, somatic therapy, plant medicine, yoga, the breath, ceremony and daily practise. My soul purpose is to be a support for others in their healing. I am deeply devoted to learn, refine and master love, skillfulness and expansive capacities to empower individual, collective and planetary healing and harmony.
I am a depth dweller with a blend of lightheartedness, creativity and play. I like getting to the heart of the matter and to the depths of things.
I love water, winged ones and whales.
I love words and the wonder and wisdom of the plant world.
I deeply value the art of listening, the wisdom of dreams, the willingness to be vulnerable, the quest for truth, and living with integrity. I value the practise of slowing down, returning again and again to the present moment and to the body, residing in the heart, the medicine of laughter, and the intelligence and generosity of the natural world.
As a white settler, with deep respect and gratitude, I acknowledge that I reside as an uninvited guest on the unceded, ancestral Sinixt təmxʷúlaʔxʷ as well as on the territories of the Ktunawa and Syilix people. I offer a sincere commitment to support the immeasurable grievances, strengths, resurgence and autonomy of First Peoples and First Nations, as I continue to learn, act and be in a good way with all relations on these lands.
I am a queer, genderqueer who uses they/them pronouns (for those familiar with gender and pronouns). I have worked with trans and 2SLGBTQ+ community since 2009 and while I truly consider it a privilege to humbly serve this community, I enjoy working with all people, and welcome everyone just as they are.
Education and Training
Relational Neuroscience for Healing Trauma. Bonnie Badenoch, 2022
Conscious Connected Breathwork Level 1 & 2. Breathwave, Robin Clements, 2022
Relational and Body-Centred Practises for Healing Trauma. Sharon Stanley, 2021
Relational Somatic Therapy (200-hr certification). Mariah Moser, 2020
Indigenous Leadership Essentials. IndigenEYEZ, 2017
Circle of Life: Trauma-Informed Training. Jane Middleton-Moz. 2016
Mindfulness-Based Trauma Counselling, Ontario Institute for Studies in Education. 2013
Expressive Arts Therapy. The C.R.E.A.T.E Institute, 2012
Bachelor of Arts in Women's Studies/International Development. Trent University, 2003
Vipassana meditation and mindfulness practice since 2005